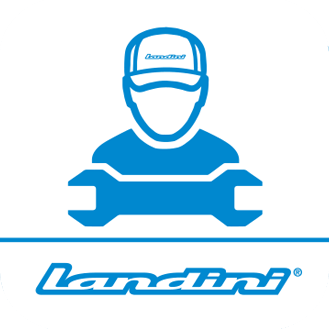 Technical support

Landini Service, through its network of independent dealers offer a range of agricultural products guaranteed to always deliver exceptional performance, backed up with top quality service and rapid response to your technical
requirements. We at ARGO Tractors South Africa supply continual support through our specialised technical team to the dealer network which ensures timeous solutions attuned to your agricultural requirements.
Striving to supply the end user with a high level of service and a pleasant customer experience.
Technical support team
Field Support
Travelling personnel who support dealer technicians directly in the field
Warranty
Management of the warranty procedures carried out by the dealer network
Training
Management of technical training to the dealer networks technicians as well as daily maintenance and operator training.
PARTS
The original. Spare Parts Service works in order to guarantee to each tractor the highest level of reliability and efficiency during time, offering original components of first equipment. Original Spare Parts are important for those who want to safeguard their tractor. They are developed by experts who really knows the machine, since they designed and built it. Original Argo Parts Spare Parts are the certainty of total reliability and convenience, as they guarantee to the tractors a quality work, high productivity and long life of the machine. Moreover, replacing the worn component with an Original Spare Part, you will have 12 months warranty on that piece. Original Argo Parts spare parts are easily identifiable; together with a customized packaging, each component is characterized by a unique part number, description and bar code to enable an automated management system. Each Argo Parts spare part is labeled with a tamper-proof hologram that certifies originality and quality standard.
AGROLUBE
It is proved that to get the highest performance of our machine, each lubricant we use needs to be designed and developed alongside the machine itself. For this reason, Argo Tractors created AgroLube, the range of lubricating oils born from a unique experience: 130 of agricultural tractors production. The portfolio of AgroLube lubricants is a complete range, which counts different product categories: from engine, shift, and transmission oils, till greases and liquids for the protection of the radiator. AgroLube offers the right lubricant for every machine and for every usage, with the aim of delivering the best performance even in the most severe working conditions, decreasing energy consumption, observing the standards of emissions set for environment safeguard.
LOUNGE CAB
LOUNGE CAB, a true high-tech control centre Two years after the launch of the 6 and 7 series, the Longue Cab has been updated with cosmetic and ergonomic upgrades to improve operator comfort and ease of operation, making long hours in the field as stress-free and comfortable as possible. The new cab retains the same design as the previous version – a four-post frame with flat-deck platform, rear-hinged doors and one-piece panoramic windscreen that provides ease of access to the driving position and unequalled all-round visibility. The Alcantara upholstered swivel seat with dynamic air suspension system and fully automatic height adjustment features an optional backrest ventilation system and a multi-function right-hand armrest that houses the main tractor controls. Also integrated into the armrest is a 12" DSM touchscreen monitor that controls the tractor performance and functions. The telescopic tilt-adjustable steering wheel is designed to tilt with the instrument panel. The new cab also includes several new features as standard including an inside mirror, additional 12V sockets for portable devices, a bottle holder and a blind for the roof hatch. The cab is pressurized to keep a clean, dust-free environment with a sound level of only 70 dBA, while a highly-efficient automatic climate control maintains the desired cab temperature whatever the outdoor weather conditions. To further increase operator comfort, an electronically-controlled hydraulic cab suspension system is available as an option.